DNBC Symposium and 20th Anniversary
In May 2019 half of the young participants in the DNBC had turned 20 years old. To mark this event, a scientific symposium was held on May 29th 2019 in Copenhagen. The day was a great success - the auditorium was filled up, the lectures were interesting, and the atmosphere was cheerful.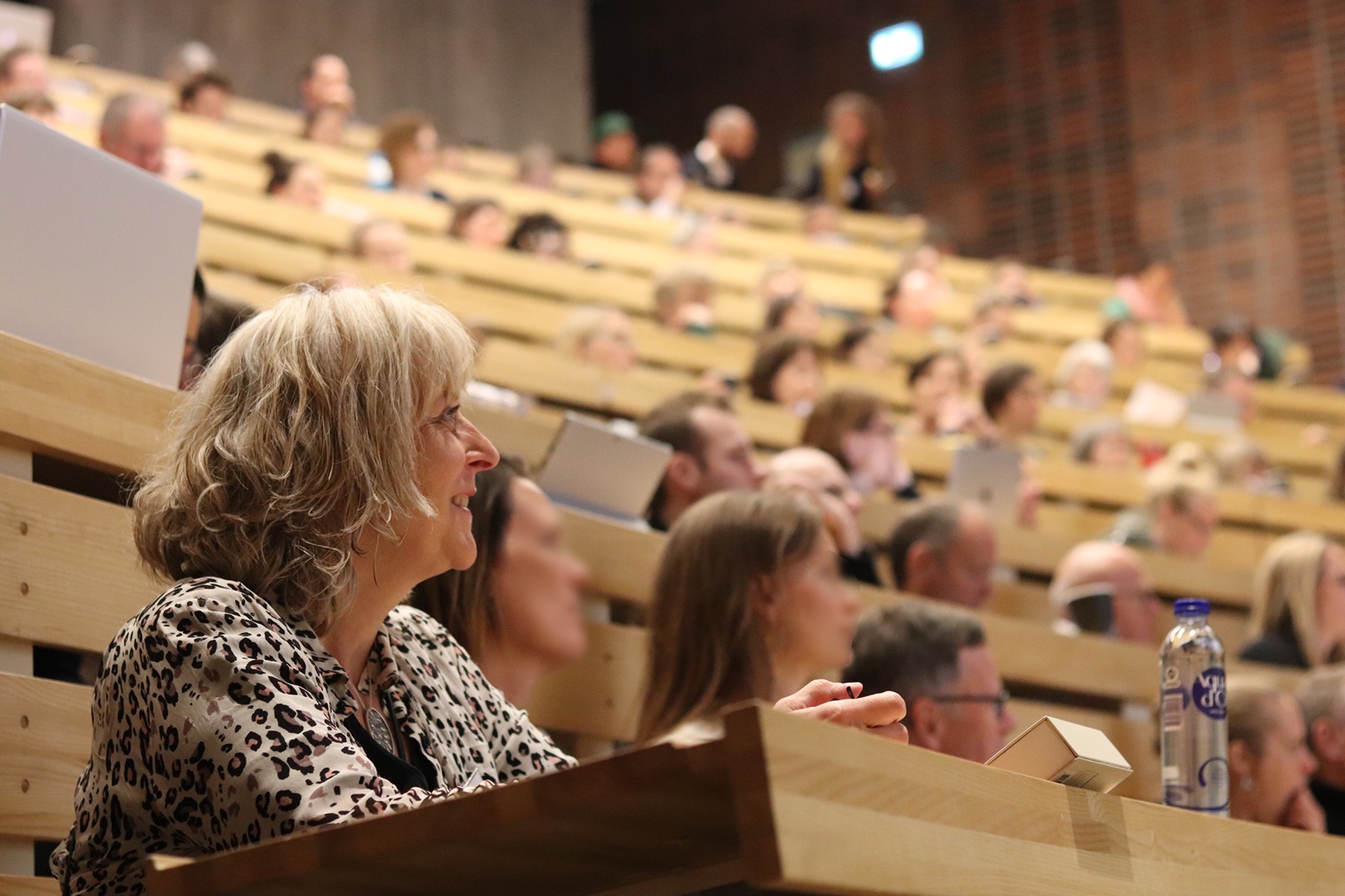 PI Anne-Marie Nybo Andersen and a fully booked auditorium.
May 29th, 2019 was a day of highlight presentations from cohort research in Europe and from the DNBC in particular, as the DNBC management in collaboration with the LifeCycle Project presented the below programme.
For participants:

Download the final programme here: Download programme (pdf)

Download "How to get to the venue" (pdf)

See venue on Google Maps: Entrance from Nørre Allé 20

SYMPOSIUM: Approaches and Methods in Pregnancy and Child Cohort Studies
08:00-10:45 Morning session
08:00-09:00 Registration and welcome

09:00-09:45 Anne-Marie Nybo Andersen – Danish National Birth Cohort (DNBC)
09:45-10:15 Hazel M Inskip - Southampton Women's Survey (SWS)
10:15-10:45 Siri Håberg - The Norwegian Mother-Child Study (MoBa)

10.45-11:00 Coffee and fruit

11.00-11.30 Debbie Lawlor - Alspac
11.30-12.00 Liesbeth Duijts – Generation R
12.00-12.30 M-A Charles - Etude Longitudinale Française depuis L'Enfance (ELFE)
12:30-13:00 John Wright - Born in Bradford (BiB)
13:00-14:00 Sandwiches and DNBC poster exhibition
Sandwiches (incl. vegetarian and gluten free options) will be served outside the auditorium.
From Fetus to Adulthood: Highlights from 20 years of DNBC research
Chairs: Anne-Marie Nybo Andersen and Thorkild IA Sørensen
Does mode of delivery affect long-term maternal health.
Ellen Aagaard Nøhr, DNBC and University of Southern Denmark
Dietary Studies in the DNBC
Anne Ahrendt Bjerregaard, Statens Serum Institut
Fever in pregnancy. Any reason for worry?
Julie Werenberg Dreier, Aarhus University
The DNBC Biobank – contributions to science
Mads Melbye, DNCB and Statens Serum Institut
Maternal and child genetic effects, prenatal exposures and childhood obesity outcomes
Camilla Schmidt Morgen and Theresia Maria Schnurr, University of Copenhagen
15:20-16:00 Coffee break and poster exhibition of 20 years of DNBC studies
Disordered eating and eating disorders in a population based sample
Katrine Strandberg-Larsen, DNBC and University of Copenhagen
Paracetamol/acetaminophen studies and neurodevelopmental outcomes
Zeyan Liew, Yale University
Keeping the show going: Contact with thousands of participants and researchers
Inger Kristine Meder, Anne Aakjær and Aya Fabricius, DNBC secretariat, Statens Serum Institut
and
Being the Danish National Birth Cohort
DNBC youth panel / DNBC Ambassadors
The first results from the Puberty Cohort nested within the DNBC
Cecilia H. Ramlau-Hansen, DNCB and Aarhus University
17:00 Birthday cake and drinks At the top of the Mærsk Tower